Starting 2015 with a Bang!
As we move into the year 2015, I thought I'd challenge myself this year with a reading challenge. What kind of reading challenge you might ask. To answer this question I scoured the internet for other book blogs to see what challenges are out there. Most of the challenges are very similar and you can find them very easily by just doing a simple Google search.
I guess the type of challenge really depends on you, what your expectations and likes are. I based my decision on these two aspects. There are two things I really want to achieve with a reading challenge this year:
I want to increase my reviews – that means more local books.
I want to reduce my TBR (to be read) pile significantly.
One of the biggest challenges though is that most of the books on my TBR pile are not local mystery/crime fiction, but rather from international authors and then there are a number of sci-fi/fantasy and non-fiction books as well. So even though I might be reading, you won't necessarily always see a post. Hmmm… I can still put a review up on Goodreads, so if you follow me on Twitter you'll know I'm actively reading at least. I might even throw in an update post every now and then just to let you know that I'm alive. I hope that's good enough? Anyways, here are the rules for each challenge.
2015 Local Author Reading Challenge
This challenge is based on me wanting to not only generate more content for my blog, but also include more of our local South African authors that I don't know. When I thought of doing such a challenge I did a quick Google search to see if there are any similar challenges and I found one. There is a blog, 2015 Reading Challenge – SA Books only, created specifically for just such a challenge. So if you want to support our local authors, but not necessarily in the mood for mystery/crime/thriller, go have a look. There is a list of all the books the blogger would like to read during 2015. You might just find what you're looking for.
So now for the rules:
The focus is on the mystery/crime/thriller genre.
Both Afrikaans and English fiction.
Authors I haven't reviewed before, that means I need to delve into the unknown (so that excludes Irma Venter, Deon Meyer and Margie Orford from the challenge, doesn't mean I won't read them during the year :))
There should at least be one new author reviewed every 2nd month, totalling 6 new local finds.
In summary for this challenge I need to find 6 local mystery/crime/thriller authors that I have not yet reviewed. Exciting times lay ahead!
2015 TBR Jar Reading Challenge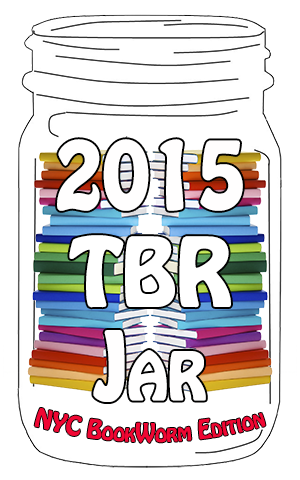 Yes, I dare to complicate my life even further by adding a second reading challenge. For this challenge I just want to reduce my TBR pile. I found a fun way of approaching this challenge at NYC Bookworm, where you write down all the books that are on the TBR pile (almost 50, so that's not too bad) and place them in a jar. Each month I will pick a name from the jar and then proceed to read it. If the book falls within the mystery/crime/thriller genre I'll post a review on The Mystery Corner, otherwise I'll review it on my Goodreads profile. When all goes according to plan, I should have at least removed 12 books from TBR pile by the end of 2015. Hold thumbs!
Just to give you an idea of what my TBR pile looks like, I thought I'd give you a couple of pictures.
Also allowed are cross-overs, which means that a book in my TBR challenge could count towards the local author challenge and vice versa (as long as the book was originally in my TBR pile).
At the moment I'm looking into some widgets that would show the progress of these challenges and will add them to the sidebar once I've managed to find them. Also, I'm created a separate "Reading Challenges 2015" page where you can stay updated. So please check it out.
Are you participating in any reading challenges this year? What are your thoughts?
Happy Hunting!